In patients ≥18 years of age with BBS
IMCIVREE delivered early, significant, and sustained weight reduction1-3
← Swipe left or right to see all tabs →
Weight reduction in patients ≥18 years of age1-4
← Swipe left or right to view →
Clinically significant ~10% mean weight reduction in patients ≥18 years of age at week 522,3
At 24 months, patients in a long-term extension trial experienced a mean ~15% reduction in body weight4
*ATB=active treatment baseline, defined as the last measurement before the first dose of IMCIVREE, ie, week 0 for IMCIVREE group and week 14 for placebo group.2
†Data shown only include patients who received 52 weeks of IMCIVREE at the time of the analysis.2
‡For patients aged 18 years or older, population sizes ranged from 7 to 15, with n=12 at 52 weeks on active treatment. Error bars are the standard deviation.2
Percentage change in weight in patients ≥18 years of age after 52 weeks (n=12)1
← Swipe left or right to view →
Patients were not required to change their diet or exercise routine1
*Patients with data after 52 weeks of treatment.1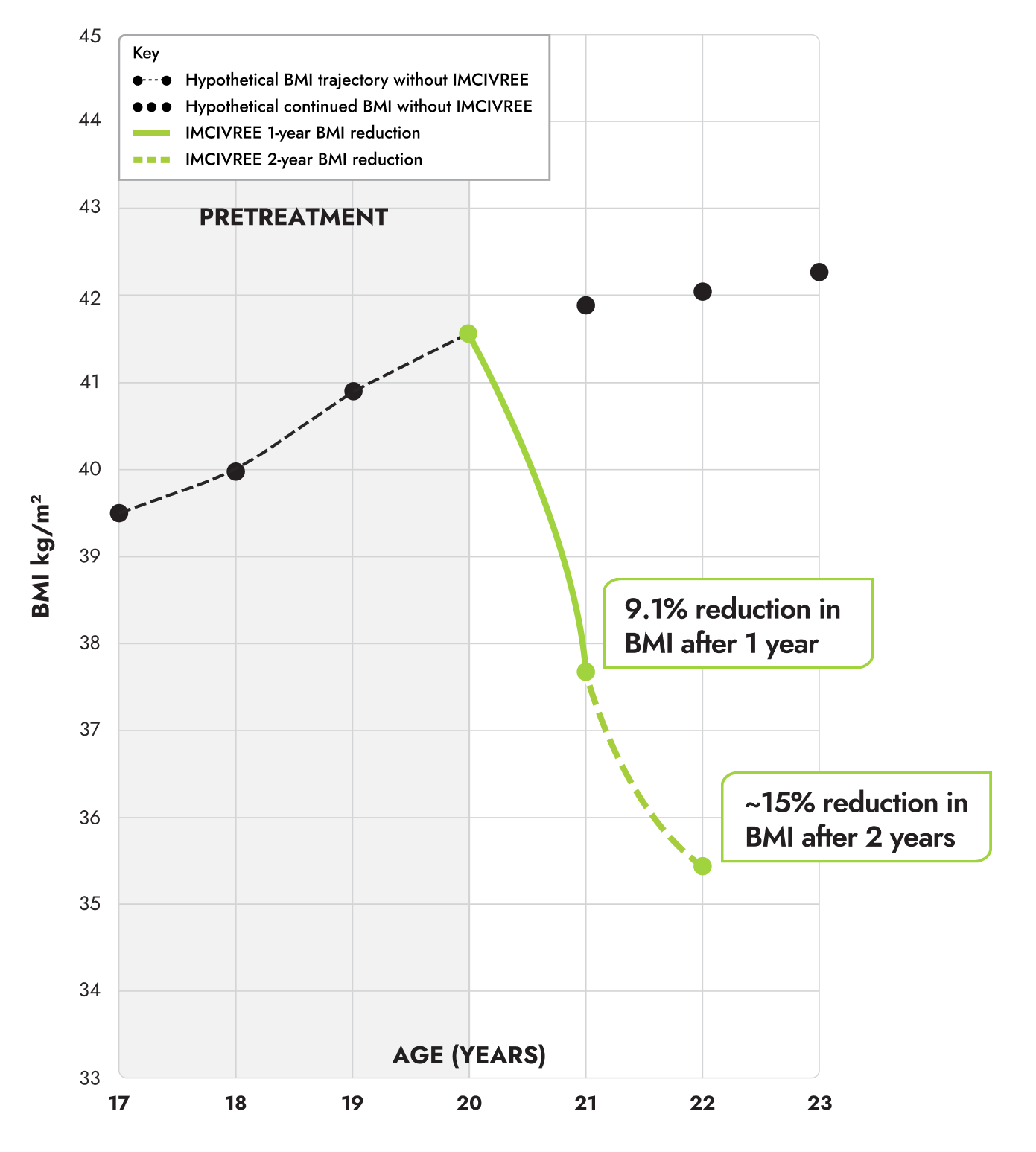 Chart is for illustrative purposes only.
*Not an actual patient.
†Patients with data after 1 year of treatment.7
References: 1. Data on file. Rhythm Pharmaceuticals, Inc. Boston, MA. 2. Haqq AM et al. Lancet Diabetes Endocrinol. 2022;10(12):859-868. doi:10.1016/S2213-8587(22)00277-7. Supplemental appendix available at: https://www.thelancet.com/journals/landia/article/PIIS2213-8587(22)00277-7/fulltext. 3. Grossman DC et al; US Preventive Services Task Force. JAMA. 2017;317(23):2417-2426. 4. Argente J et al. Endocrine Society Annual Meeting. Poster ODP606. June 11-14, 2022.